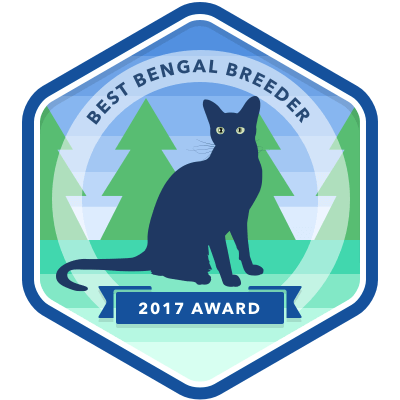 Thank you for your interest in our Bengal kittens. If you see a kitten you like, you may reserve that kitten by placing a non-refundable holding deposit on the kitten of your choice. For your convenience, we accept Personal Checks (if paid two weeks prior to pick-up), Postal Money Orders, Venmo and PayPal. Please note that 100% of the proceeds from the sale of our purebred kittens goes to support the cats and kittens in rescue at the Exotic Heritage Cat Association of America, a no-kill feline only shelter and 501(c)(3) charitable organization.
IF YOU SEND US A TEXT MESSAGE AND DO NOT RECEIVE A REPLY, PLEASE UNDERSTAND WE ARE NOT IGNORING YOU. UNFORTUNATELY, WE DO NOT HAVE CELL SERVICE AT OUR RANCH AND WILL NOT RECEIVE YOUR MESSAGE. BECAUSE WE DO NOT HAVE CELL SERVICE, WE DO NOT EVEN OWN A SMART PHONE. HENCE, WE DO NOT SEND TEXT MESSAGES AND CAN ONLY COMMUNICATE VIA EMAIL.
We are very prompt in replying to email inquiries. So, if you contact us by email and do not receive a reply, please check your SPAM folder. If you still do not see an email from us, please feel free to call us at 928-757-1437 or provide your phone number and we will call you. In the recent past, it seems that some of our emails have gotten lost in cyberspace, leading people to believe we have not responded to them. Please rest assured that if we receive an email inquiry from anyone, we reply to each one, even if we do not have what you are looking for. HOWEVER, PLEASE TRY OUR EMAIL FIRST! I have recently gone deaf and am unable to hear well on a telephone.
If you wish to place a holding fee or pay via PayPal, the holding fee is 30% of the price listed and you may use PayPal or PayPal credit by clicking on one of the buttons below:


OR

We currently have only three bengals available for adoption.
MEET MAX! Max is a one year old brown (black) marble Bengal male. Max is an absolute lovebug! He craves human attention. He is VERY vocal and will actually carry on a conversation with you. Words can simply not convey how incredibly loveable this boy is. I absolutely adore him. If we had the room, he would stay here as one of our personal pets. But, alas, we can't keep them all. Max has been vaccinated, microchipped and neutered and is offered at the ridiculously low price of only $900. We may even be amenable to reasonable offers. Max has free roam of our home, but constantly follows us around, rubbing on us and demanding that we pet him. If you are interested in meeting Max, please contact Arden at
blackmagicarabians@frontiernet.net
to schedule an appointment to come meet and play with Max.